The other day I clicked a link over to Buzzfeed, which, by the way, is my favourite procrastination site. You can bet that when I sit down to get a few solid hour's work done, teapot nicely filled, snacky bits within reach, Grooveshark playlist on in the background, at least some of the time will be spent taking out pointless quizzes/learning all the secrets of Disney films*/watching amusing gifs. The buzzfeed list I clicked over to was this one** and it reminded me of a travel bucket list we wrote as a family, a few months ago.
Since the children are now at an age where travelling with them both isn't nightmarish, we've become rather fond of getting away, even if just for a weekend, and I've spent a lot of time on Pinterest, Trip Advisor, First Choice and the like, looking for holiday inspiration and deals. So, here is a snippet of our family bucket list:
1) Copenhagen. Mainly for the Lego. But also for The Little Mermaid statue, Tivoli Gardens, Christiania and the Round Tower. For starters.
2) Paris. I've been a couple of times, but Ross and the children haven't. It might not be somewhere we go particularly soon, as I think it might be better suited to older children, but one day we will go.
3) The Balearics. Not too far away for littlies, and a great sunny holiday destination. Who doesn't love the Med? We went to Menorca when I was about 8, and it was great. Fond memories indeed!
4) DisneyWorld, Florida. Definitely not a weekend getaway, but come on. I have small children. I love a Disney Princess with the best of them, and I, for one, would pay good money to have breakfast with Ariel. And since we're in Florida, I wouldn't pass up a trip to the beach at Naples, a drive along that highway that goes through the Florida Keys, and I know Ruby would love lunch with an astronaut at the Kennedy Space Center.
5) One for just Ross and I here: Morocco. My sister told me about a guest house right up in the Atlas mountains. It's a real retreat, and perfect for people who like to go trekking. I am not entirely sure how much I'd like the trekking, though for the views alone I'm sure it's amazeballs, but the retreat up in the mountains? The stars at night? The home cooked food that wasn't prepared by me (for once)? Yes please.
6) Greek Islands. One word here: Lindos. Don't know about Lindos? Google it! It's wonderful. Greece gets insanely hot in the summer, probably too hot for Ruby's fair English skin, but in September, the sea will be warm, the children will be back at school (which sadly makes it impossible for us) and the summer season hasn't yet finished.
7) Something rather different. You may have guessed I'm a bit of a heliophile, but when we started writing our list we all decided that Lapland at Christmas is right up there for us. It would definitely be a short break but definitely a spectacular one. Can you imagine the snowball fights? And the hot drinks at the end of the day? And, if you went at the right time, the northern lights? Ahhh.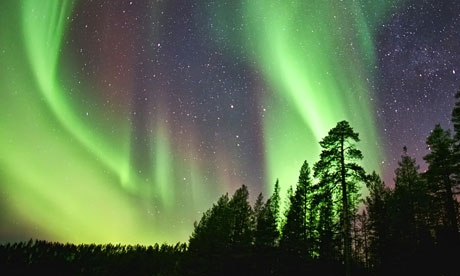 Do you have a family travel bucket list? What's on it?
*Oh come on! Who doesn't want to know how Frozen is connected with Tangled and The Little Mermaid?
** Incidentally, I've been to the Waitomo Caves, in New Zealand, and they are just as spectacular as they look.
Images, with thanks, from:
http://www.visitcopenhagen.com/
http://www.theguardian.com
This is a commissioned post