Welcome, one and all, to 5:2 Friday! If you have any blog posts relating to the 5:2 diet, however tenuous, then come and link up!
This week I've been sticking to having just one main meal instead of 3 smaller snackettes. That way I've allowed myself a coffee at playgroup or at home in the morning, and if I've felt really hungry during the day, I've been nibbling cut up raw vegetables.
Last week's weight loss was so encouraging (3lbs shifted) that I figured maybe having the smaller meals wasn't working so well for me, as previously I hadn't really lost anything for weeks. I can't attribute my weight loss entirely to 5:2 however, since I've been doing the 30 day shred (and sticking to it, and actually enjoying it, who'dathunkit?), so the toning and the inch loss will be partly from that.
Anyway, without further ado, here's what I've been eating.
Fasting Day 1 (Monday)
A cup of coffee with milk and 1 sugar, which sustained me right up until dinner:
Salmon (or trout, can't decide what it actually was) steamed with spring greens, fennel, bay and lemon, and served with loads of other green vegetables. My recipe for that is here. It was superb, really delicately flavoured, but substantial.
I do find that on fasting days, the main meal I have always tastes amazing.
Fasting day 2 (Thursday)
Thursday was odd, I kept myself busy, had my morning cup of coffee and even managed to go round Sainsbury's on an empty stomach and not buy anything that would undo all my hard work. Then as soon as I got home I was ravenous, so I cracked open some mini tubs of low fat houmous and sliced up some vegetables.
But dinner! Oh dinner was magnificent. I made stuffed red peppers with wild rice, onion, fennel, courgette, celery, cheese and harissa. The pepper was sweet, and the filling was cheesy and spicy from the harissa. It was a perfect summery supper. It would have been even better with a glass of chilled white wine, but after the coffee and the houmous, I doubt I would have had the calories left over.
Notes: Calorie information taken from livestrong.com and yumprint.
Click here to enter your link and view this Linky Tools list.
If you're doing the 5:2 diet and want to join in, then I'd love you to link up and have a look at other entries for ideas and inspiration. Please also grab the badge for your post.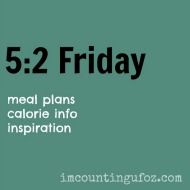 <div align="center"><a href="http://imcountingufoz.com/blog/52-friday-7-3035 ‎" title="5:2 Friday" target="_blank"><img src="http://i2.photobucket.com/albums/y50/minstrelsareyum/5-2FridayBadge.jpg" alt="5:2 Friday" style="border:none;" /></a></div>