Happy Friday, party people! Come and link up your 5:2 posts!
I've done my two days fasting. This week it has felt significantly easier than previous weeks, and I've felt good on fast days. Better than I have felt in ages.
Fasting Day 1 (Monday)
Breakfast:
125g plain natural yoghurt, with a handful of raspberries.
Peppermint tea.
Snack:
Cup of coffee with milk and sugar. I actually only got to drink about half of this, because my son is a coffee monster.
Meal Total: 146 Calories
Lunch:
A mug of my standard skinny days soup. I've made this so much I swear I could do it with my eyes shut. It's pretty yummy, and filling.
Skinny Days Vegetable Soup
2013-04-18 10:17:20
Serves 3
Nutrition Facts
Amount Per Serving
* Percent Daily Values are based on a 2,000 calorie diet. Your Daily Values may be higher or lower depending on your calorie needs.
Ingredients
75g Carrots
1 stick of celery
1 medium onion
400g tin of tomatoes
1 cup Spinach
500 ml water or stock
1 tbsp olive oil
Instructions
Chop up the carrots, onion, and celery and gently fry in the oil over a medium heat.
When the onions begin to soften, pour in the stock and tinned tomatoes, simmer until the vegetables are cooked through.
Add the spinach right at the end of cooking, and stir in gently until it has wilted.
Blend and season as necessary.
I'm Counting UFOs http://imcountingufoz.com/
Meal Total: 93 Calories
Dinner:
For dinner I made Harissa Chicken, which was mentioned on the 5:2 forum I frequent. After a bit of digging I found the recipe on the BBC Good Food website. I halved the recipe as I didn't think my kids would like harissa, and we ate it with a huge serving of leeks and spring greens. Absolutely delicious. My portion of chicken weighed 100g after it was cooked – which is quite a small chicken breast, but it was enough and I don't think I could have managed one that was much bigger.
Meal Total: 156 Calories
Day Total: 395 calories
Fasting day 2 (Thursday)
Breakfast:
Nada, but I did drink a mug of hot water with lemon and a slice of ginger.
Lunch:
I wasn't sure if I was really hungry or not at lunchtime, but by 1pm I was feeling a touch lightheaded, so I thought it best to eat something, bearing in mind, the last meal I had was at 5pm on Wednesday night and I'd done the 30 day shred since then. I threw some bits and pieces that needed eating together and called it good. Actually, it was really rather lovely.
Half a tortilla wrap

1tbs low fat natural yoghurt mixed with half a teaspoon of harissa paste.
The last couple of leaves from a baby gem lettuce (30g)
A couple of slices of cucumber (20g)
The last of some sliced chicken I'd bought for school lunches (10g)
2 cherry tomatoes
All wrapped up together, it was fresh and spicy, and came in at 127 calories. Not too shabby.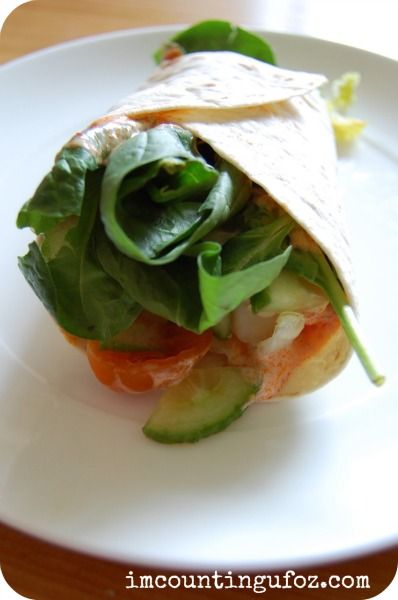 Meal Total: 127 Calories
Dinner:
I was feeling inspired after the harissa chicken dinner, and had some cod in the freezer. I made a tomato and balsamic sauce which I added capers and olives to, reduced right down and spooned over the fish. I baked it in a moderate oven for 15 minutes, and served it with spring greens and spinach. I'll post the recipe over the weekend, but know that it was delicious.
The fish and tomato sauce was about 180 cals, and the greens added an extra 22 calories, making it a very filling, very low calorie meal.
Meal Total: 202 Calories
Day Total: 328 calories
Notes: Calorie information taken from livestrong.com
If you're doing the 5:2 diet and want to join in, then I'd love you to link up and have a look at other entries for ideas and inspiration. Please also grab the badge for your post.
Powered by Linky Tools
Click here to enter your link and view this Linky Tools list…
And like always, if you found this useful, please feel free to share the love and pin, +1, like. You know the drill!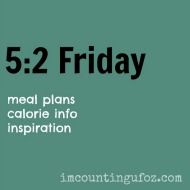 <div align="center"><a href="http://imcountingufoz.com/blog/52-friday-5-2919 ‎" title="5:2 Friday" target="_blank"><img src="http://i2.photobucket.com/albums/y50/minstrelsareyum/5-2FridayBadge.jpg" alt="5:2 Friday" style="border:none;" /></a></div>