It's Friday, everyone, and round these parts that means a weekly round up of the 5:2 diet.
This week, I will confess I have lost no weight.  This could be one of two things:
1) The dreaded weightloss plateau of doom.
2) I have embarked on the 30 Day Shred, and although in five days I have lost inches around my arms, thighs, hips and tummy (eternal thanks, Jillian, you drill sergeant, you) I have definitely built muscle and as everyone knows muscle weighs more than fat.  So I don't feel too bad about no weight loss if my bod is slightly leaner.
In any case, I have valiantly continued on with 5:2 despite the rather disappointing results.  This week's meals are:
Fasting Day 1 (Monday)
Breakfast:
A breakfast smoothie made with:
1/4 of an orange – juice and pulp
A tablespoon of oats
100g of low fat plain yoghurt
Half a small banana
A small handful of frozen raspberries.
I simply threw it all in the blender, added some ice and a bit of water and blended.  It was all right, but I'll be honest and say I think it looks better than it tasted.  It was crying out for some more orange juice and a good drizzle of honey.
Meal Total: 160 Calories
Lunch:
My friend came over with her boys and we ate lunch together.  Considering there were baguettes and cheese on the table, I feel like I did exceptionally well.  Lunch consisted of:
A couple of cherry tomatoes
Roughly a quarter of a yellow pepper
1 really meagre slice of baguette.
A sliver of goats cheese
Some home made coleslaw – made with more yoghurt than mayonnaise.
Meal Total: 259 Calories (because of the cheese, but let me tell you, it was worth it)
Dinner:
Dinner was epic.  It was one of those thrown together meals, which I find are often the best.  I had tomato, aubergine and lemon sauce over shredded cabbage (Which I now prefer to actual pasta), and here is the recipe.  If you like a fresh-tasting, summery sauce that works well on pasta, then this is the recipe for you.
Meal Total: 98 Calories
Day Total: 517 calories
Fasting day 2 (Thursday)
Breakfast:
A cup of coffee with milk and a teaspoon of sugar.  Yeah yeah, I know that is pitiful, but I didn't feel hungry.
Meal Total: 52 Calories
Lunch:
Vegetable Noodle Soup
These kind of soups are my go-to for when I'm disorganised.  You can throw pretty much any vegetables into a simmering pot of hot stock for a tasty, low calorie lunch.  Today I chopped up the following, packed it all up and assembled it at Mammasaurus' house:
 35g broccoli

1/4 of a yellow pepper
40g chestnut mushrooms
20g red onion (which equated to about a quarter of a medium onion)
20g mange tout
1/3 of a cup of frozen sweetcorn.
I drizzled some hot pepper sauce into the chicken stock, as well as a handful of fine egg noodles.  It was tasty and filling. Definitely a good 5:2 option.
Meal Total: 191 Calories
Dinner:
Griddled Aubergine and Courgette Gratin
At 200 calories/serving this makes a really tasty dinner.
Red lentils, tomatoes, celery, onion and peppers baked between layers of griddled courgette and aubergine and topped with a good handful of lemony, cheesy breadcrumbs.  It doesn't leave you feeling bloated in the least, but the lentils definitely make you feel like you've had a filling meal.
Meal Total: 200 calories
Day total: 443 calories
Notes: Calorie information taken from livestrong.com
If you're doing the 5:2 diet and want to join in, then I'd love you to link up and have a look at other entries for ideas and inspiration.  Please also grab the badge for your post.
Powered by Linky Tools
Click here to enter your link and view this Linky Tools list…
And like always, if you found this useful, please feel free to share the love and pin, +1, like.  You know the drill!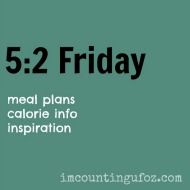 <div align="center"><a href="http://imcountingufoz.com/blog/52-friday-4-2865 ‎" title="5:2 Friday" target="_blank"><img src="http://i2.photobucket.com/albums/y50/minstrelsareyum/5-2FridayBadge.jpg" alt="5:2 Friday" style="border:none;" /></a></div>