Welcome to 5:2 Friday!
This is a brand new linky where folk doing the 5:2 diet can share recipe ideas, inspiration, meal plans. Whatever you like.  Join in, link up, make yourself at home, I'll pop the kettle on.
This week has been pretty easy for me, as I've been staying with my mum.  She also does the 5:2 diet and we have been supporting each other.  She really helped me keep my mitts out of the chocolate box whilst we sat around the fire on Monday night.  She's a goodun, my Ma.
I tried something new on Thursday and made cauliflower rice, which I have heard a lot about recently, and got from here.  It was interesting.  Nice.  Definitely a base for something, rather than a dry accompaniment. It would be lovely with a curry, or in place of cous cous in a tabouleh.
So, here are this week's meals.
Fasting Day 1 (Monday)
Breakfast:
125g of plain, low fat yoghurt (76 cals), and one tablespoon of my epic homemade granola. (65 cals)
Meal Total: 141 Calories
Lunch:
Naughtily skipped as we ate breakfast relatively late and by the time lunchtime rolled around, we were in the car driving up to London.
Meal Total: 0 Calories (tut tut)
Dinner:
My standard 75g portion of salmon (which works out at about half a standard fillet – Mum had the other half), (166 cals) with Green veggies. (approximately 50 cals)
I poached the salmon in a tin foil parcel with a slice of lemon on top of the fish, and served it with shredded white cabbage, leeks, broccoli and spinach, and a roasted cherry tomato.
Because I skipped lunch, I figured I had enough calories left for a sneaky glass of white wine.  And jolly nice it was, too (approximately 100 cals).
Meal Total: 316 Calories
Day Total: 457 calories
Fasting day 2 (Thursday)
Breakfast:
125g of plain low fat yoghurt (76 cals) topped with 1 tablespoon of Dorset Cereal Honey Granola (I couldn't work out the calorie information for this because maths really isn't my forte, but I am going to assume it's roughly the same as my home made (65 cals)
2 cups of coffee with milk and 1 teaspoon of sugar in each (104 calories).  I wish I had just had the one cup, because I then had to restrict myself a little at dinner.  And if there is one thing I do not like, it's restricting myself when there is delicious dinner involved.
Meal Total: 245 Calories
Lunch:
A small bowl of tomatoey vegetable soup (115 cals approximately).  Higher than my normal tomato and vegetable soup, which comes in at 87 calories/mug, but it had a handful of lentils and a potato thrown in for bulk and good measure.
Meal Total: 115 Calories
Dinner:
50g boiled smoked gammon (82 cals) with 50g of cauliflower rice (15 cals), 50g broccoli (5 cals), 50g leeks (11 cals)
Meal Total: 113 calories
Day total: 473 calories
Notes: Calorie information taken from livestrong.com
If you're doing the 5:2 diet and want to join in, then I'd love you to link up and have a look at other entries for ideas and inspiration.  Please also grab the badge for your post.
And like always, if you found this useful, please feel free to share the love and pin, +1, like.  You know the drill!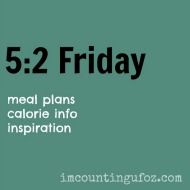 <div align="center"><a href="http://imcountingufoz.com/blog/52-friday-3-2809 ‎" title="5:2 Friday" target="_blank"><img src="http://i2.photobucket.com/albums/y50/minstrelsareyum/5-2FridayBadge.jpg" alt="5:2 Friday" style="border:none;" /></a></div>
Powered by Linky Tools
Click here to enter your link and view this Linky Tools list…