Welcome to 5:2 Friday. If you blog about the 5:2 diet, come and link up. The more the merrier!
This week has had it's ups and downs for me. I've felt hungry on fasting days, but have stuck with it, and have overeaten on feed days. On Tuesday I ate a lot of cake at my friend's house, whilst sitting in the sun and getting sunburnt (whoops), and on Wednesday I had the most extraordinary urge to eat biscuits. So I bought a family pack of shortbread. And because I am a sucker for digestives, some of those new triple chocolate bad boys McVities have just brought out might have found their way into my basket in Sainsburys. Who can resist a chocolate biscuit, with chocolate chips and a chocolate coating? No one, that's who.
Honestly, guv', I only went in there for ice lolly makers and a cucumber.
Anyway, here is what I've been eating on fasting days…
Fasting Day 1 (Monday)
Breakfast: 100g of fat free yoghurt with a pot of apple purée dumped over. I am going to take a minute or two to talk about these pots of apple purée. I've been mad on them since I was a kid. You see them in every French supermarché, but never across La Manche. Why the hell not? They are great! I know it's easy peasy to make apple sauce, but it never quite taste the same. Ross and I had a date to Calais and I stocked up on the pots of apple sauce. And by "date", I mean "date" and not "booze cruise". We did buy wine, but we also had lunch a little bistro and flew our kite on the beach. In any case, if you ever find yourself in France, give the little apple sauce pots a try.
Coffee at playgroup.
Anyway, meal Total: 185 Calories
Lunch:
More "Skinny Days" soup, the recipe for which you can find by clicking this here link.
Meal Total: 93 Calories
Dinner:
My 5:2 Fast Day Stir Fry. This was immense. The sauce was sweet and sticky, the vegetables still had bite to them. Perfect stir fry. I know this is going to feature a lot in our house, fast day or otherwise. I ate this with about two tablespoons of brown rice.
Meal Total: 214 Calories. I'm rounding up, because I had a few bites of what was left.
Day Total: 492 calories
Fasting day 2 (Thursday)
Breakfast:
Nothing but fresh air and a glass of water. I've been reading on the 5:2 forums about folk who save all their calories up for one meal, and it inspired me to mix it up a little. I wanted to see whether that worked better for me than spacing out the calories throughout the day. It only partially worked.
Snack:
1 mug of low-sodium vegetable bouillon. Funny stuff, bouillon, isn't it. I couldn't really get past the fact I was drinking a mug of stock. It had a slightly oily consistency, and I was perturbed by the fluorescent yellow rim it left in my mug. I might not do that again.
Meal Total: 12 Calories
Lunch:
Regular readers will know that I am rather partial to juicing, so for lunch I pushed an apple, 2 sticks of celery and a quarter of a cucumber through my juicer, topped it up with water and slurped it down. It makes a refreshing and tasty drink. Yes, yes, I know it kind of looks like algae-infested pond water, but I promise it doesn't taste at all murky.
Meal Total: 70 Calories
Dinner:
Poached salmon with shredded spring greens, ribbons of courgette and two tablespoons of white rice. And then a cup of coffee at Kez' house. By the way, I'm not a giant, I often eat from side plates to fool myself into believing I've eaten more than I have.
Meal Total: 211 Calories
Day Total: 293 calories
Click here to enter your link and view this Linky Tools list…
Notes: Calorie information taken from livestrong.com
If you're doing the 5:2 diet and want to join in, then I'd love you to link up and have a look at other entries for ideas and inspiration. Please also grab the badge for your post.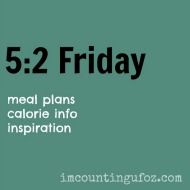 <div align="center"><a href="http://imcountingufoz.com/blog/52-friday-6-2995 ‎" title="5:2 Friday" target="_blank"><img src="http://i2.photobucket.com/albums/y50/minstrelsareyum/5-2FridayBadge.jpg" alt="5:2 Friday" style="border:none;" /></a></div>